PROFESSIONAL PILOT PROGRAM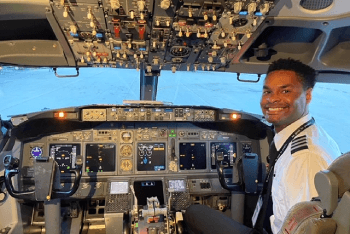 If your dream is to become a Commercial Pilot, A Corporate Pilot or an Airline Pilot, you can be earning a salary as an Ocean Aviation Flight Instructor in just 12 months, and reach your goal of becoming an Airline Pilot in just 36 months, then our Airline Pilot Professional Pilot Program is just what you're looking for!
Our Airline Pilot Professional Pilot Program is a full time, start to finish career track program. You enroll with zero flight time experience and in less than a year, you are a Commercial Pilot and Flight Instructor with your first job already lined up and ready to earn revenue as you build flight hours. Upon graduation, you are a commercial pilot with a flight instructor rating and employed as an Ocean Aviation Flight Academy Certified Flight Instructor!*
Program Course Requirements;
Candidate must be at least 18 years old to enroll. Candidates 17 Years old that will reach their 18th birthday prior to completion of Phase 3 will be considered.
You must be able to read, write, speak, and understand the English language.
You must possess at least a second class FAA medical prior to enrollment.
Must attend class at least five days per week. Classes are from 9am through 4pm daily.
Course Description
Phase 1: Private Pilot Course
During phase one of your training, you will earn your private pilot certificate. Just six weeks after your arrival, you will earn your first epaulette bar. Congratulations, you are a newly minted private pilot!
Phase 2: Instrument Course
Now you're ready to begin your instrument flight training. During phase two of your training, you will earn your instrument rating and your second epaulette bar. You are a more seasoned private pilot now with instrument rating.
Phase 3: Clear for Hire
You are now ready to begin your commercial pilot flight training. You will be making longer trips and enjoying your experience even more! You and your Ocean Aviation Flight Instructor will ensure you have the necessary flight and knowledge requirements to exceed the minimum prerequisites of a commercial pilot. You will be flying to further destinations and will gain experience flying higher powered, complex aircraft. Throughout phase 3, you will be gaining valuable flight time and experience as you fly. Before you know it, you have earned your third stripe.
Phase 4: Flight Instructor
Your flight instructors' certificate is your final phase to begin your aviation career. You are now a professional aviation, now you will learn to teach aviation, sharing your passion with new students. You will earn income and build hours toward the 1500 requirement to fly for the airlines.
Phase 5: Welcome Aboard. Your First Pilot Job.
Graduate as a Commercial Pilot with Instructor Rating and a Guaranteed Pilot job in just 12 Months!
As a graduate of Ocean Aviation's Flight Academy's Airline Pilot Professional Pilot Program, you are guaranteed an internship opportunity with Ocean Aviation as an Ocean Aviation Flight Instructor. Earn an annual income of as much as $35,000 or more during your flight instructor internship while you log an average 700 hours a year. You can reach the 1500 hour minimum required by the airlines in as little as two years.
Phase 6: Career Placement
As you approach your 1500-hour requirement, we will introduce you our airline partners and assist you in choosing the right opportunity as you move into your career. Our graduates fly for many major airlines including American, Delta, Jet Blue and United. We have the partnerships and personal connections connection's you will need with airlines such as Piedmont and Republic Airlines. Plus, we have requests for corporate pilots coming from many charter and fractional operators. Our school is very well respected and will make sure your career is a success. Our airline recruiters are always happy to meet with you and speak about future opportunities!
Details
We recommend contacting our enrollment counselors at admissions@flyoceanaviation.com to discuss your Three Year Full Time Accelerated Professional Pilot Course. They are trained professionals that will take the time to discuss financial details as well as your proposed class schedule. We are always happy to discuss your proposed training schedule and price quote based on your individual needs.
As an eventual career path or simply a way of life, there is nothing quite like the thrill of flying!